#11 - Danielle "Nolli" Waterman
Former England Rugby Union & 7s player. World Cup winner and Olympian
Nolli is a retired professional English rugby union, rugby sevens player and current rugby commentator. During her international career, she earned 82 caps, scored 47 tries and won 8 Grand Slam Six Nations, 4 European Titles and played in four Women's Rugby World Cups. She also represented England 7s for over 13 years, played in the 2009 Sevens World Cup and represented Team GB at the Rio 2016 Olympic Games.
Having retired in 2020, Nolli now keeps herself busy doing commentary and punditry work for Channel 4, BBC and ITV. She is the co-host of the 'Try Hards Podcast' and is a proud ambassador of Guinness and HSBC as well as Laureus Sport for Good charity. Alongside this, she is currently completing her RFU Level 4 Coaching qualification.
Nolli is also the Co-founder & CEO of the Women's Rugby Association – an independent players' union, established to provide a collective voice and support for Allianz Premier 15s players.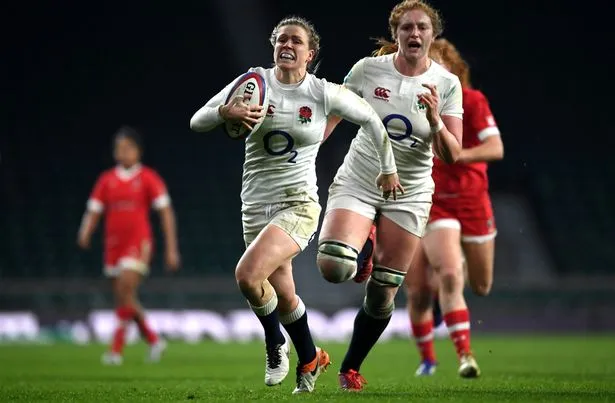 If you hadn't been an athlete, what would you have gone into after school or university? And why?
The women's game wasn't professional when I first started my career, so I was always going to need a job to help fund my rugby journey. At school I was always really interested in things that centred around helping people, so careers like law enforcement, law and physiotherapy all appealed. My passion for sport led me to study Leisure in Sport Management at university. It was primarily a business management degree which gave me options, but I decided to follow my passion for sport after graduating and worked for various schools as a sports coordinator, a teacher as well as a coach. It was something I derived a lot of satisfaction from and it also gave me the flexibility to still train as close to full-time as possible.
What experience or memory do you cherish most from your days of being a professional athlete?
Being an athlete is a really privileged opportunity to do something that you're really passionate about. I absolutely loved playing rugby. I loved being part of a team and I also really loved the fact that there was always something that you could do to improve and get better at. Inevitably, it was frustrating at times but it was also amazing to accomplish big collective goals. Rugby also enabled me to travel the world with incredible people. My family were also able to experience a lot of it with me and that's very special.
What's one thing you're interested in or care about that most people don't know?
I've always been really passionate about working with young people, whether that's as a teacher, a coach or an athlete mentor. I'm also really passionate that people from rural communities get those moments of inspiration and opportunities so that they believe they can go out and explore the world and live out their dreams. Those from rural communities, like where I grew up (Minehead in Somerset) often get exposed to less opportunities and therefore have fewer touch points than those from more populated areas. As a result, young people may not build the courage or have the inspiration to do something away from their local community or follow a different path to their family and friends. My parents were always very conscious to make sure that I believed I could become anything that I set my mind to and that there weren't any limits on my potential just because of where I was from.
The prevalence of mental health problems in elite sport is incredibly high. Why do you think that is and how can we reduce it?
I think everybody can appreciate the pressure that athletes are under when they go into the performance arena. Whether that's on a court, a pool or a pitch. One of the challenges that athletes have is that they go through so many different challenges and pressures throughout their careers – be it a young young athlete experiencing something for the first time, injury, selection woes, relationship issues with a coach, poor performance or even problems at home. Lots of focus goes on performance and yet there are so many changes and challenges that an athlete will experience as a person during their career and these are exacerbated because of the unique pressure and scrutiny that their sport puts on them. Coupled with the potential fear of speaking out as it might result in you being dropped from a team or not being selected for a squad. I definitely felt like that at times and I think it really plays on an athlete's mind. Fortunately though, with athletes now feeling more comfortable speaking out about these issues, it should make it easier for others to do the same.
Careers are full of ups and downs. What caused you pain and how did you deal with it?
I was very fortunate with the success that I experienced on the field. With England we got to 4 World Cup finals, we won a number of six Nations Championships and I was very privileged to be part of many of those squads. Probably the hardest thing I faced in my career were the six reconstruction surgeries that I had. They were big injuries and they stopped me training and playing for significant periods of time. It was hard missing out on the experiences that my teammates were living but I also worried that I wouldn't be able to get back to where I was physically and regain my place in the team. Being told in 2015 that I probably wasn't going to play rugby again hit me hard and that was a low point in my mental health journey for sure. It was a real battle and a challenge to be able to believe that I could get back. Fortunately, I not only had some of the best support from a physical standpoint, from physios and doctors but it was also the first time I had the appropriate mental health support and that made a huge difference. Without it, I don't think I would have played in the Olympics, the world cup or played in some of those Six Nations winning sides.
Can you tell us about your experience of retiring and transitioning into the 'real world'?
I worked really hard during my career to make sure that I took as many opportunities as I could whether that be networking or work experience. Also, I'd had to work for a large proportion of my career. For 12 out of my 15 year rugby career I worked full time, so the transition hasn't been as big as you might imagine. I did, however, miss the routine, the fun, the engagement and the challenge of training and playing and being with the squad on a daily and weekly basis. I also made sure that during my career I had things away from from rugby that I enjoyed. One of those being having a dog and getting out with her and staying active provided me with the routine that rugby no longer gave me when I retired and that really helped.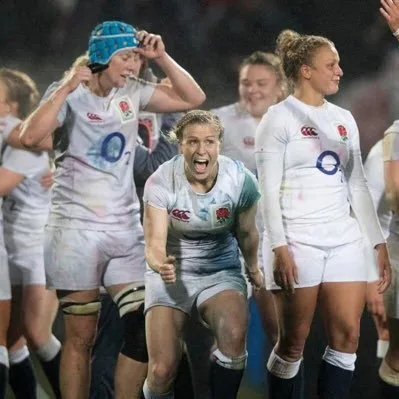 Do you have a favourite quote or saying? Why does it resonate with you?
I've always really liked and reflected on the fact that:
"if you really want to do something, you'll find a way, and if you don't, you'll find an excuse"
Being a full-time athlete and having to work full-time, I really had to juggle and make sure I did find a way to be able to fit everything in that I wanted to do, and when I found myself making an excuse not to do something, I would always make sure to reflect on that. It's a matter of finding the motivation, finding the time and not finding an excuse.
Any parting thoughts for those youngsters that might be about to embark on a pro career, those in the middle of one, or those that might be coming towards the end?
Although as athletes we give absolutely everything to our sport, physically and mentally, and throughout the year there are different points where everything goes into making sure that you can perform at your best, whether that's going into a performance cycle or whether that's rehabbing or getting selected for a competition, it's really fundamental that as much as we give to all of that as an athlete we also give to ourselves as a person. We must prioritise times throughout the year, throughout each day and throughout each month to be able to make sure that we can be ourselves. Whether that's doing small things with friends and family that allow you to talk about something different or doing work experience and seeing if a certain career might be for you after retirement. One thing that I also used to do as a little trick to make sure that I wasn't just talking about my sport when I was trying to have a break was that I would give my family three chances to ask me questions about rugby and once those questions had been used up we weren't allowed to talk about it anymore. Unless I wanted to of course! They would only ask lots of questions because they were genuinely interested and passionate but this rule meant that I had some control over how much we talked about rugby and that they saw me as a person as well as the rugby player.
Finally, how can people follow what you're up to and potentially reach out?