#2 - Ashleigh Spiliopoulou
Former British Championship Bronze Medallist in Heptathlon
Ashleigh Spiliopoulou is a former British Championship Bronze Medallist in the Heptathlon, having competed around the UK and Europe for over six years. The Heptathlon is an event comprising of seven track & field disciplines and competition takes place over two days. Whilst still at school, she trained at Brunel University under the coaching of Commonwealth Bronze Medallist, Martin Brockman. Ashleigh then moved to Loughborough University to study Psychology and train with an elite group of Heptathletes coached by David Feeney. Away from the track, Ashleigh has a passion for writing and design. During her career, she worked as social media manager for The Diamond League; an annual series of the 14 best invitation athletics meetings globally. Now retired, Ashleigh works for the leading B Corp accredited PR Agency in the world, Milk & Honey PR.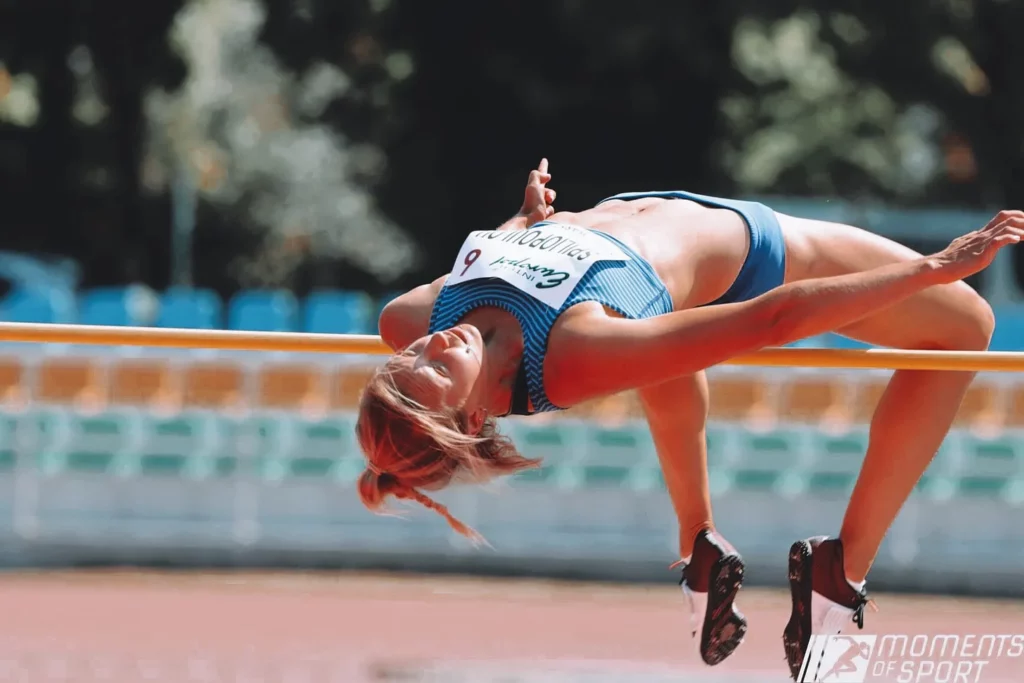 If you hadn't been an athlete, what would you have gone into after school or university? And why?
If I hadn't been so focused on athletics, I think I would have considered a career in law. As it was, I didn't go down that route as it would have been really challenging to balance alongside a 35+ hour training week. When I dedicate myself to something, I go full throttle, so I didn't like the idea of not being able to deliver 100% to law and track. I did also consider journalism or graphic design as I absolutely love to write and create. As it happens, I've managed to combine these passions both with my track career and post-athletics, so it's all worked out in the end.
What experience or memory do you cherish most from your days of being a professional athlete?
There's two really. The first is the moment I crossed the line at the end of the 800m at the British Championships. The 800m is the final event in the Heptathlon and it's both a physical, but also enormously, mental battle. I was absolutely exhausted going into the event and I knew I had to run a PB and beat another of the girls by around four seconds to win a medal. It was a massive task and took every ounce of energy which I had left but the feeling when I crossed the line and saw the clock is like nothing I've ever felt before. For all your blood, sweat and tears have paid off is just the best feeling in the world. I'll never forget it.
The second isn't one memory but the general lifestyle which I was lucky enough to experience. Training for Heptathlon is so brutal. You spend 5+ days a week training 4-5 hours a day (if not more!) and I was lucky enough that my training partners were some of my best friends. We've trained in the torrential rain and snow, we've seen each other grumpy, injured and broken. We've died on the track countless times and ridden the highs and lows of sport together. I'm so grateful for the crazy intensity of the experiences we had together. It taught me so much about friendship as well as my own capacity to cope with whatever is thrown at me. I've become so resilient and aware of my own strength because of sport
What's one thing you're interested in or care about that most people don't know?
I really care about making a better world for people and planet. That's why I chose to work for Milk & Honey. They are a B Corp organisation which means they work in ways which benefit society, by doing environmental and social good. I'm always on the lookout for ways to live better in my personal life, whether that's through educating myself with podcasts or through actions such as second-hand shopping, volunteering, or eating sustainably. It's definitely a minefield and I don't pretend to be an expert but I think if everyone does their best then we can make a big collective difference.
The prevalence of mental health problems in elite sport is incredibly high. Why do you think that is and how can we reduce it?
Sport demands so much of you physically and mentally. To see results, you have to be so disciplined. It can be hard to maintain your friendships outside of sport because you have to live such a strict lifestyle. Consequently you can become all consumed by sport, to the point where you feel that your life depends on the result. Combine this with the unpredictability of it and you've got a recipe for crisis. It just takes one injury, or a couple of bad performances, and you're dropped from the squad / not selected for the championships. This is a huge attack on your self worth which can be hard to handle. 
Alongside this, athletes feel like they have to be tough. You never want to show weakness to the opposition, so you end up bottling up and not reaching out for help. In athletics, particularly, it was difficult as you're training alongside your competitors. It can feel very lonely. I also don't think there's enough support available for athletes. There's a bit of a stiff upper lip culture in sport. Teams invest a lot in preparing their players/athletes physically to perform but there's not enough there to make sure your mentally ready to perform. I think it is starting to change but there's a long way to go before it becomes normalised to talk about your struggles.
Careers are full of ups and downs. What caused you pain and how did you deal with it?
I was lucky enough not to have many injuries in my career but the ones I did experience were tough. Athletes are all about progress so you feel quite paralysed when you can't train as you feel like you're just stuck whilst everyone around you are moving forward. 
However, I'd say the biggest mental pain I experienced was not living up to my own expectations. I had such big goals and when I fell short of them, I found it really difficult to handle. I vividly remember crying in the car on the way home from countless competitions. In Heptathlon, you can only really do your full event 3-4 times a year due to the intense demands of the two days. This piles a lot of pressure on those specific weekends. For months, you've been training, testing out events at smaller competitions in preparation for the moment. You've put the hypothetical points into the calculator, and you know what you "could" do if everything went to plan. But this is sport, nothing ever goes to plan. 
I've never felt pain like when you fail to deliver on competition. The cloud was so heavy and your body aches with disappointment. Don't get me wrong, it's also what I loved about sport because the high of achievement is just as intense. I do think if I'd been better able to manage my emotions I'd have been a better athlete and that's an area that teams/coaches could really do with investing in.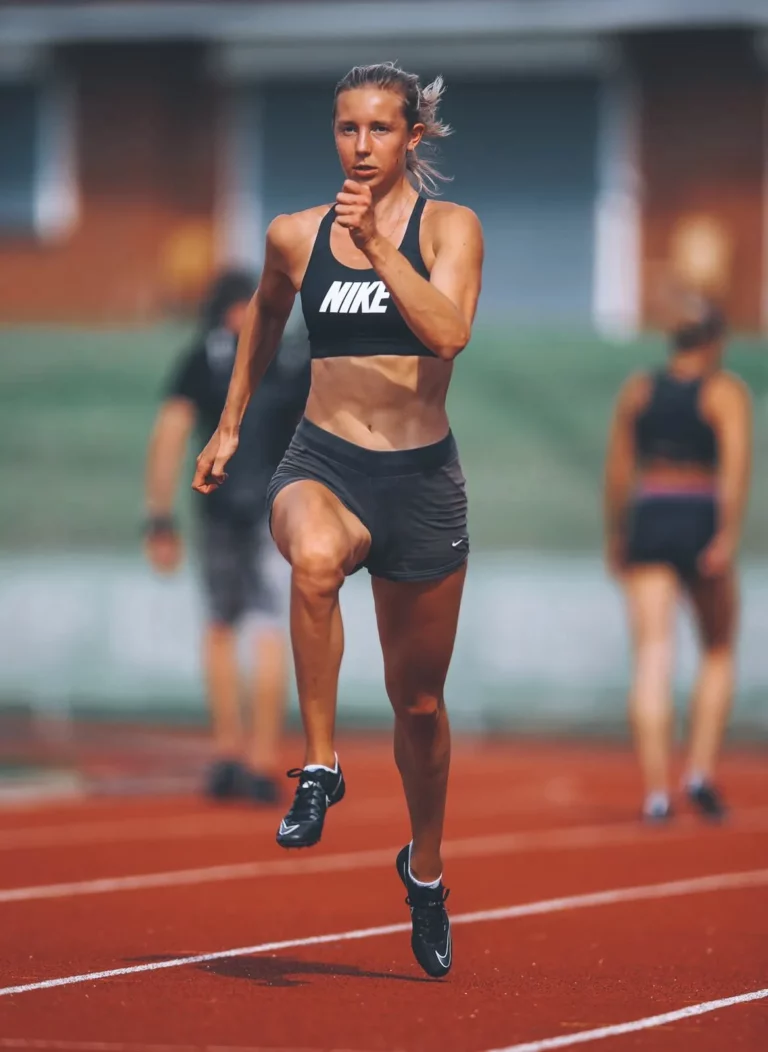 Do you have a favourite quote or saying? Why does it resonate with you?
I can only be as good as I can be. When I cross the line, I'll see what that got me. That's a calming, focusing and quite inspiring thought.
I used to repeat that phrase to myself before I stepped out to compete and it gave me a sense of freedom which I found consistently made me perform better. It was like letting go of the fear of not being good enough actually helped me to risk and see what I had within me.
Any parting thoughts for those youngsters that might be about to embark on a pro career, those in the middle of one, or those that might be coming towards the end?
Get to know who you are and what you stand for outside of sport. I defined who I was by the results I produced on the track and that left me feeling pretty empty when I performed badly, and it also made it extremely difficult for me to leave the sport. Now that I stand on the outside of the sport, and now that I've started to find who I am besides an athlete, I have a fresh perspective that I think would make me a better athlete if I could go back. I understand how difficult it can be to find this perspective when you're in the midst of your career. It's your dream so it can start to become the only thing that matters. My advice would be to hold onto that passion but never lose sight of the other things that define you. Invest in being a good friend, a bookworm, an activist or whatever it is that sets your soul on fire outside of sport. I can guarantee it'll make you a better athlete.
Finally, how can people follow what you're up to and potentially reach out?