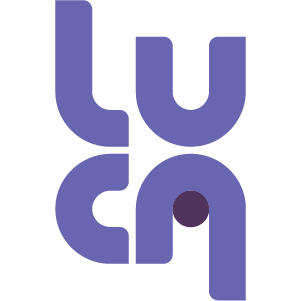 Luca specialises in mental health screening for athletes. We partner with teams to provide their athletes with a tool to understand how they're feeling, and frictionless pathways to help.
There's a pandemic in elite sport and nobody's addressing it.
1-in-4 in the general population suffer from mental health issues and the problem in elite sport is 50% greater. Athletes face unique pressures and high performance environments exacerbate the problem. Athletes find it impossible to show any signs of weakness and that's causing a huge number to suffer in silence.
As of right now, we're working with professional and elite university teams. In the near future, once we've evolved the product and built a trusted brand off the back of working with well known teams and athletes, we'll expand our market to grassroots teams and also create a consumer (D2C) offering.
Sport provides the structure and setting for its participants to checkin and prioritise their mental health, Luca provides the mechanism.
Luca is built by athletes, for athletes.
We understand the power dynamic in elite sport makes it difficult for athletes to be fully open and honest with their team. Given the mental health taboo that still exists, athletes don't want to do anything that might jeopardise their place in the team or their contracts.
Our process purposefully ring fences this confidential information as much as possible, whilst still ensuring at risk individuals receive the help they need. Our customers, the teams, benefit from having their athletes able to prioritise their mental health, which is a good thing in and of itself, but it will also result in improved individual performance levels. Teams also have visibility on their athletes via a dashboard that displays aggregated and anonymised screening data.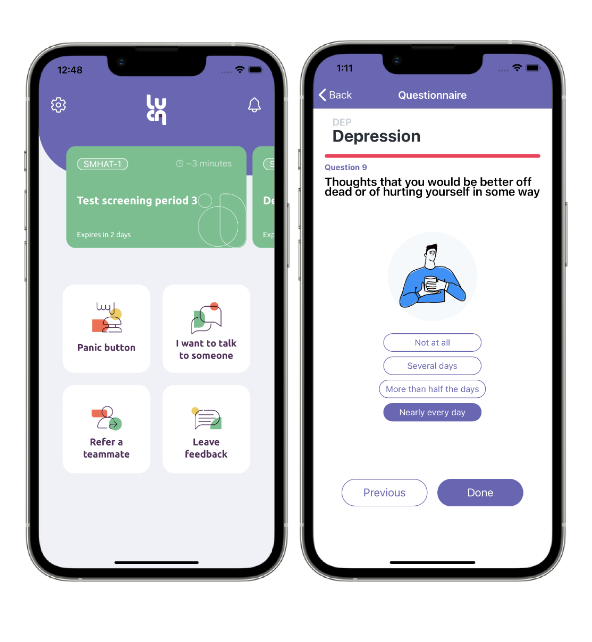 Teams are not screening their athletes on a regular basis and it wouldn't work if they were. Athletes need an independent solution like Luca to provide them with the confidence to open up and report honestly.
The first mover in a large and growing market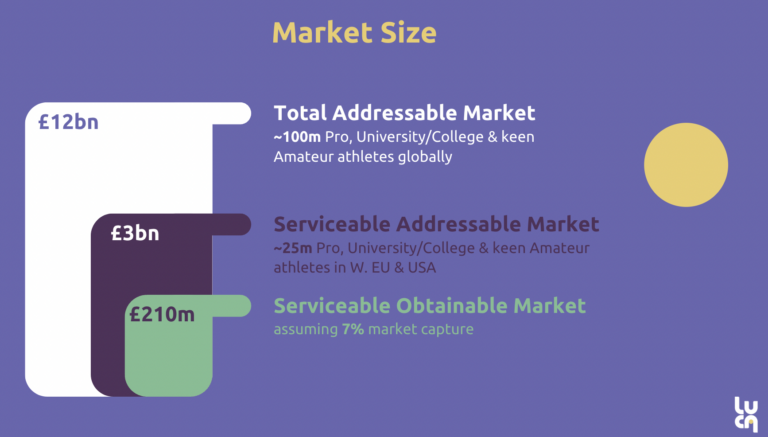 Download the Luca Health app and have a play! Follow the steps below and get a taste for what roughly 200 athletes are currently using.
1 .Download our app by searching for "Luca Health" on your phone's app store or by clicking the Apple or Android link / button below.
2. Signup using your email
3. Navigate to Settings(small cog on the top left hand side), then My clubs and then press on the small plus icon on the top right hand side.
4. On the dialog box please use "inlc5w" as the activation code
We have preloaded the app with two screenings:
A slightly altered SMHAT-1 screening, to enable you to experience the full tool, irrespective of your responses.
An investor feedback questionnaire to provide you with the opportunity to let us know what you think, but to also demonstrate the flexibility of Luca to handle custom questionnaires.

Just the beginning – the current version of the product is really simple but there's huge scope to evolve and sophisticate it by developing new assessment tools and by leveraging voice and facial analysis technologies.
Our pilots are proving the concept
We're now two plus months into our pilots with British Skeleton, Oxford University Rugby Club and Cambridge University Rugby & Boat Clubs. We're working with the men's & women's teams of each of the clubs. 183 athletes from across the teams have downloaded the Luca app from the Apple App or Google Play stores, and have created an account. We've been conducting bi-weekly screenings up until the end of w/c 12th Dec. There was a short break over Christmas, but normal screening cadence has now resumed and the pilots will conclude at the end of March 2023.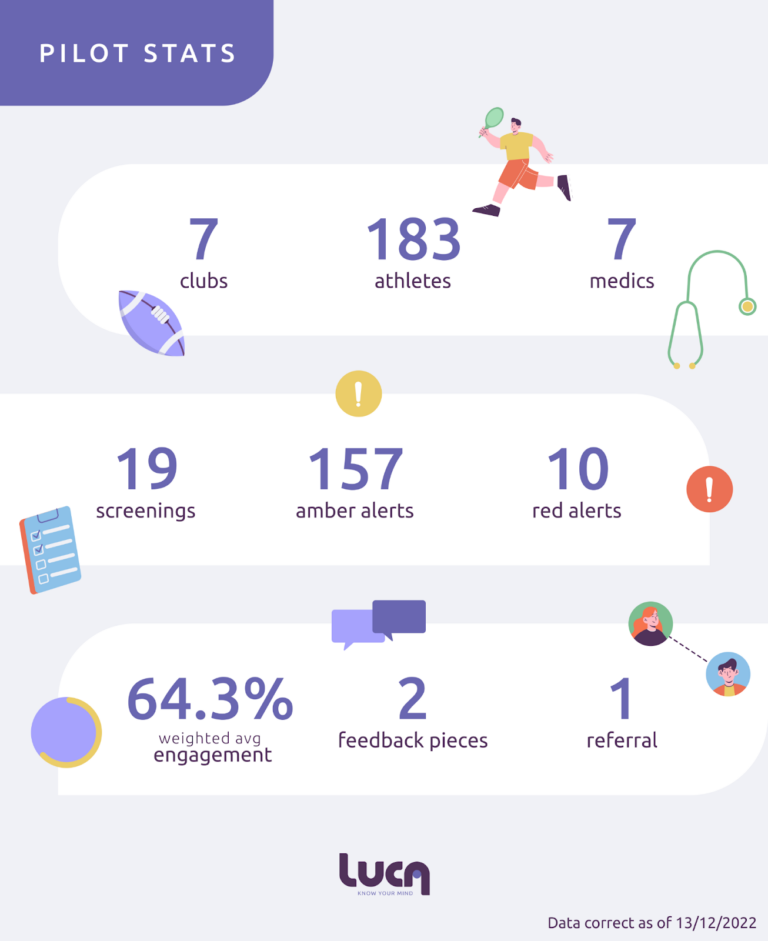 As you can see, 19 screenings have been completed across the 7 teams and the weighted average engagement is 64.3%. There have been 157 amber flags and 10 red alerts. Two pieces of feedback have been provided for the teams and there has been one self-referral, for a suspected case of bulimia.
We've been deeply concerned by the number of flags that have been generated. We've realised the methodology we're using is potentially a little too sensitive, which explains the very high number of amber flags (worrisome responses to one or more of the Anxiety, Depression, Sleep, Disordered Eating and Alcohol & Substance abuse screens). However, 10 red flags (threat to life or self-harm) is extremely concerning and supports the hypothesis behind Luca:
that athletes are really struggling out there and are largely suffering in silence.
Even though we're only just getting started, we're excited to have created a tool that athletes feel confident enough to check in on and report honestly, and then receive help in a frictionless manner. For the vast majority of the red flags, the teams had no prior awareness or understanding that these people were struggling, let alone considering suicide or self-harm. They are now receiving support and that's exactly why Luca exists. Red flags are our north star metric and to have 10 of them from just 19 screenings is a sign that we're working on something important and have a process that works.
We have an unfair advantage having played and worked in professional sport, previous healthtech startup experience and a lived experience of depression. We have deep access to sports contacts and the credibility to have them engage and amplify our message.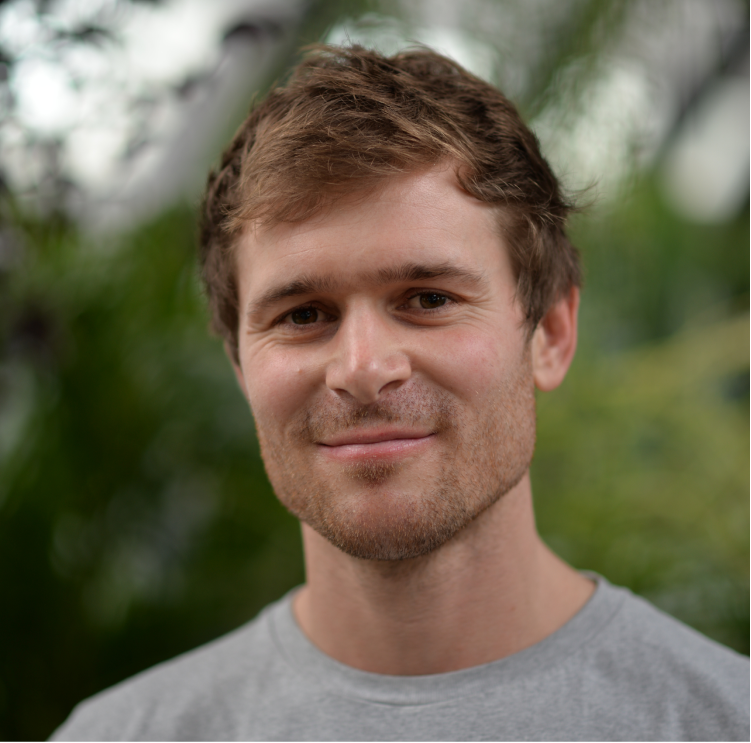 Nick Greenhalgh
Co-founder & CEO
Ex Professional Rugby Player

Commercial experience in pro sport

Oxford MBA

A burning desire to support athletes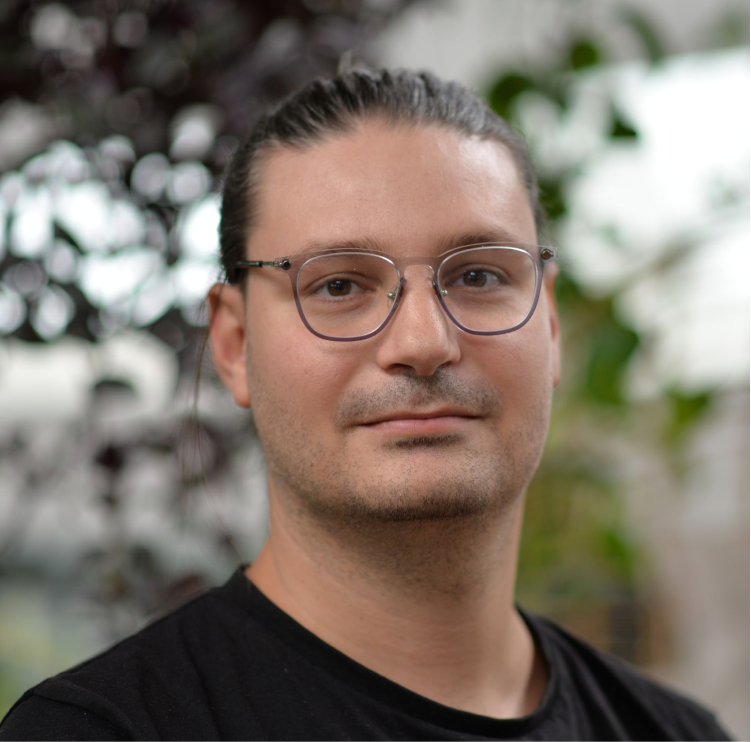 Vas Nikolaou
Co-founder & CTO
Ex Healthtech startup tech lead

Lived experience of depression

Computer Science at KCL

A deeply passionate MH advocate
High profile athletes like Michael Phelps, Simone Biles and Naomi Osaka have publicly spoken out about their struggles in recent years, and this has done an enormous amount to progress the mental health conversation in sport. Covid has acted as a further accelerant and we're now in a position where teams not only 'get it' but are actively looking to invest in their athletes' mental wellbeing (it's also increasingly becoming a regulatory necessity in order to be a part of a league or competition structure).
Despite this, what we're doing is not obvious. Outsiders assume this is a problem for teams to fix. As insiders, we know this problem has to be tackled by an independent third party.
Athletes needlessly suffering in silence. There's another way, and we're building it.
Nick – "I was failed as an athlete. It was horrible, and it affected me. I don't want others to feel as isolated or alone. Athletes are young and vulnerable. They need someone like us in their corner"
Vas – " Having experienced a depressive episode first hand, I am very passionate about fighting stigma and helping other people come through it with the least pain possible"
🎒 Feb 22 – Joined Antler LDN5 cohort
💡 Mar 22 – Idea conceived
💰 April 22 – Investment from Antler
🏗 Jun-Aug 22 – Building. Prototype developed, sales pipeline initiated, brand building started
📱Sept 22 – App live on app stores
📝 Sept 22 – 4 pilot partnerships signed
📈 Oct 22 – Pilot partners onboarded and live
🍾 Oct 22 – First screenings completed and results in
✅ Nov 22 – first check in with pilots. Data, learning & tinkering
💸 Dec 22 – Funding round open to VCs & angels
What's Ahead (short-term)
💰 March 23 – Funding round closes
👫 April 23 – Grow team and build advisory board
👨‍💻 May 23 – Develop research & technology partnerships to evolve product into second phase
🚀 June 23 – Commercial launch in UK
This will enable us to grow the team, evolve the product and help us realise the opportunity ahead of us. We'll be seed ready in 18-24 months by achieving the following milestones:
1). Genuinely differentiated and proprietary screening product
2). 50 household name clients
3). Strong brand, synonymous with athlete mental health
This current round will enable us to add a talented engineer, sales and ops experts, and a Head of Mental Health.
The mental health hire will lead on forming research partnerships with a leading university to help evolve the product.
£210K SEIS allocation still available
💻 35% – Engineering
💼 15.7% – Sales
⚙️  28% – Ops & Customer Success
👩‍💼 8.4% – Advisors
🤳  5.2% – Marketing
🏟  4.2% – Office
🏉 3.5% – Other
'Human too' - how we built conviction
Whilst developing the idea earlier this year, we spoke with well over 100 athletes, coaches, medics and all sorts of sports related people. We alone, cannot shout loudly enough about the size and severity of the problem. We have to lean on the voices and platforms of the athletes that need our help.
This is why we've created 'human too', a blogpost series focussed on getting to know the person behind the athlete. What they care about off the field, what makes them tick on a human level, how they might have struggled – on or off the pitch – and the coping strategies that have helped them and that might help others too.
We release these "interviews" weekly in order to raise further awareness of the problem and to increase our brand profile.